Thursday, April 29, 2004
U.S. Army is bunch of pussies compared to California Attorney General
Wednesday, April 28, 2004
I love the smell of napalm in the morning
Our hero: Brigadier-General Reginald Dyer
Tuesday, April 27, 2004
Commie Hillary wants your health care
Monday, April 26, 2004
We could have won Vietnam
Sunday, April 25, 2004
Sorry about the delays
Friday, April 23, 2004
We're doomed :-(.
Tuesday, April 20, 2004
Dastardly criminals arrested!
Monday, April 19, 2004
Dr. Germ's evil weapon destroyed!
Sunday, April 18, 2004
Help expose the gay agenda's takeover of our schools!
Friday, April 16, 2004
Who are you going to believe, me, or your lying eyes?
Thursday, April 15, 2004
Australia victim of the Gay Agenda
Wednesday, April 14, 2004
On the trail of Osama bin Flynt
Still resting up
Monday, April 12, 2004
General Kermit corrects the record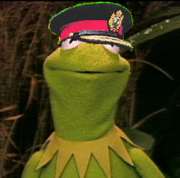 Note: I haven't been feeling well today. So I'm letting my good buddy Brigadier General Mark Kermit, Deputy Director of Coalition Operations in Iraq, have my space for the day. This is the transcript of a news conference he had in Baghdad, Iraq with various reporters.
Reporter: Thank you very much. Radel Azawi from BBC, BBC correspondent. At the outset, you were conducting so many conferences and interviews with the press, but without specifying exactly the casualties, the coalition forces casualties in Fallujah. While you have seen that most of the attacks were at the outskirts of Fallujah, but you haven't give us a figure or a number about the mortars that have been burned, or there are so many casualties among the coalition forces. Can you give us the figures and number of the casualties estimation, even if it is estimated?
Kermit: It's easy being green! We lost maybe 70 soldiers, Booyah! But we killed 700 of those heathen sand niggers.
Reporter: The second question is, there is a saying -- some of the people or there is a report saying that the coalition failed to control Fallujah. And it has been said also that when you have just cease- fire, it was because you failed to control the whole -- to put all the areas under your control in Fallujah.
Kermit: Lies! All lies! Those
untermenschen
sand niggers are committing suicide upon the walls of Fallujah! God will roast their stomachs in Hell at the hands of the Marines! There are no terrorists in Fallujah! For true!
Reporter: When do you think you'll have control of the Shiite towns of the south back from the Mahdi Army?
Kermit:
We are in control. They are in a state of hysteria. Losers, they think that by killing civilians and trying to distort the feelings of the people they will win. I think they will not win, those bastards. Lying is forbidden in Iraq.
President George W. Bush will tolerate nothing but truthfulness as he is a man of great honor and integrity. Everyone is encouraged to speak freely of the truths evidenced in their eyes and hearts.
Q: (Through interpreter.) Hamza Hashin al-Ferat Newspaper. Thanks God that the operation, combat operation is about to be stopped or to be finished in Fallujah. What was the aim behind having all these operations in Fallujah? And they couldn't get any benefit out of conducting this operation, they couldn't get the people who mutilated the bodies or who killed those Americans. But we do want to know what the purpose behind having all these combat operations in Fallujah while the
civilians were most of the casualties.
Kermit: There were no civilian casualties in Fallujah. Our Marines are very well trained and good shots. They only shot terrorists, not civilians.
Q: You're saying that 500 pound bombs dropped from an F-16 can tell the difference between a terrorist and a civilian?
Kermit: Look, our bombs are SMART bombs. Very well educated bombs. They got college degrees! They make sure to ask the people in a building whether they're terrorists or not before blowing up the building, and if the terrorist ran in the front door then ran out the back door, they don't blow up the building, they just fly back to their jet fighter. What do you think we are, terrorists or something?!
Q: But... but... that just doesn't make sense! Are you saying that the artillery shells you fired are smart shells too?
Kermit: Every one of our artillery shells has at LEAST a high school diploma. It can tell the difference between a terrorist and a civilian just like that, and refuse to blow up if the terrorist already ran away and left women and children behind.
Q: Wha... Wha kinda drugs you smokin', dude? I want some of them! What about these three reporters who say that the
Marines shot up the ambulance
they were riding in as
they helped pick up injured Iraqis?
Kermit: Lies! All lies! Those reporters
are actually in the pay of Saddam Hussein!
They were using the ambulances to shuttle guns around between the terrorists!
Q: What about this
picture of a little baby
shot through the head? Was this a terrorist?
Kermit: Of course he was! He was waving an RPG around in his little hands, just LOOKING for a Marine to blow away!
Q: What about this picture of a pregnant woman shot through the stomach? Was this a terrorist?
Kermit: Look, those pictures are just propoganda. Lies. Besides, the little fetus was waving an AK-47 around from under her robe, the Marines had to shoot in self defense even though her hands were up!
Q: But General, the whole Arab world is seeing a stream of images like this, they're watching a stream of women and children being buried on live television. What do you say to someone who's watching those dead women and children being buried?
Kermit: Change the channel! Change the channel! Lies! All lies! Watch only good patriotic media like Fox News! Don't bother your
beautiful minds
with such horrors!
Q: Isn't that a bit much to ask someone whose brother, sister, child, cousin, nephew was killed by an army of occupation?!
Kermit: Not at all. Just repeat after me:
It's not that easy bein' green;
Having to spend each day the color of the leaves.
When I think it could be nicer being red, or yellow or gold-
or something much more colorful like that.
It's not easy bein' green.
It seems you blend in with so many other ordinary things.
And people tend to pass you over 'cause you're not standing out like flashy sparkles in the water- or stars in the sky.
But green's the color of Spring.
And green can be cool and friendly-like.
And green can be big like an ocean, or important like a mountain, or tall like a tree.
When green is all there is to be
It could make you wonder why, but why wonder why? Wonder,
I am green and it'll do fine, it's beautiful!
And I think it's what I want to be.
Q: Are you freakin' NUTS?!
Kermit: I prefer to just call myself a true American patriot.
Sunday, April 11, 2004
The right way to handle Fallujah
Friday, April 09, 2004
President handles important business in Crawford
Thursday, April 08, 2004
Towards a more Christian nation
Wednesday, April 07, 2004
Appropriately applying the Rod of Correction in Iraq
A traitor speaks
Tuesday, April 06, 2004
Judge, jury, and jailor
Monday, April 05, 2004
War against sex continuing
Sunday, April 04, 2004
Busy preparing
Saturday, April 03, 2004
DEMON-crat accuses our Great Leader of not being manly
Friday, April 02, 2004
Part of nuclear explosive mechanism found in Iraq!
Thursday, April 01, 2004
Time for the Final Solution!
To those who scare peace-loving people with phantoms of lost liberty, my message is this: Your tactics only aid terrorists. The 1st Amendment only applies to speech I like.
-- John Asscroft
Banned by both the left-wing The Daily Kos and the right-wing Tacitus, woot! -- The A.G.'s Inner Penguin
---
Lawyer Stuff
This is political satire, protected activity under the 1st Amendment of the Constitution of the United States of America. If you don't understand what this means, EMAIL me.
About John Asscroft
The Untied States of America exist in a Marvel Comics "mirror universe", in case you haven't figured it out. In this mirror universe, the attorney general of the Untied States is a raving lunatic right-wing fundamentalist by the name of John Asscroft, the U.S. Army is treated as toy soldiers by the administration, the President is a genial puppet in the hands of a conniving puppeteer, and the press are willing accomplices in deceiving the public to go along with a regime that is comprised of a bunch of big boys playing with toys rather than of mature adults. Of course, there are some who think this is the REAL universe, but they're all terrorists or French so who cares what they say?
About John Asscroft's Inner Frenchman
This site is not connected to any political party and receives no money (or any other input) from any political campaign or party (unlike some blogs out there). The author's own politics can be best described as Libertarian. A minute's work will find the author's main EMAIL address and blog. Let's just say that he's a highly-paid engineer who has successfully delivered multiple products to market, and who has little patience for liars whose sole product is bullshit.